DIAGNOSTIC & STATISTICAL MANUAL: PSYCHIATRY'S DEADLIEST SCAM DOCUMENTARY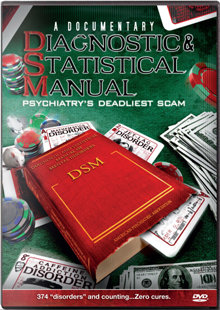 Watch the documentary that is causing controversy to rage over the Diagnostic and Statistical Manual (DSM), psychiatry's bestselling catalog of diseases. Containing no scientific basis and compiled literally based on votes by psychiatrists, the DSM reinterprets and labels as a brain disease everything from problems with mathematics to stuttering, from fear of spiders to cigarette addiction, from anxiety to nightmares—374 such invented diseases in all.
The DSM and its labels are used not only to rake in billions through drug prescriptions but to decide child custody battles, discrimination lawsuits and to forcibly commit people to psychiatric institutions.
Who profits from all this? And who pays the price?
Order your copy of Diagnostic & Statistical Manual: Psychiatry's Deadliest Scam documentary, free to legislators/government officials, insurance carriers, legal and medical professionals.
ORDER YOUR
FREE DVD
If you are a legislator, government official, medical or legal professional or a human rights activist you qualify for a free Citizens Commission on Human Rights Information Kit. To receive your kit simply fill out the form below.