PSYCHIATRY ROBBED HER SISTER OF HER SOUL—JASMINE GOT HER BACK
When Sydney, aged seven, was prescribed psychiatric drugs, she became an "empty vessel." And she might have remained lost, if not for her sister's love and relentless quest to bring her back.
Jasmine's younger sister Sydney was a spunky one—creative, into the arts and singing every minute. One of those kids that make you think, "How are you so happy?"
And she was, until caught by psychiatry.
"People kept telling my mom that my sister had ADD and that she needed to be on Ritalin and that she needed to be tamed or calmed, or whatever," says Jasmine.
At the age of seven, Sydney was prescribed psychiatric drugs.
"The drugs, they erased her," says Jasmine. "I lost my sister. It was like her soul was taken out of her. It was the scariest thing I had ever seen in my life. She didn't sing. She was quiet all the time. She was just gone."
When Jasmine went to college, she majored in psychology, determined to find options for children other than psychiatric drugs. But within a year she wanted out. It was like reliving her sister's "moments of torture" all over again. In asking around for solutions, one professor pointed her to CCHR: "You need to go to this museum. It will change your world. It is what you are looking for."
She did. She and her boyfriend, also a psych major, visited the Psychiatry: An Industry of Death Museum at CCHR Int. When they walked into that first room, she knew she had found it.
"I was blown out of the water because it was the side that I knew," she recalls. "When I got to that section on kids, I broke down—I just started crying….I'm looking at my sister. I'm looking at what she had to deal with and nobody wanted to have that awareness or say anything like, 'This is not okay.'"
Jasmine returned to the museum with her mother and then teenage sister. When Sydney saw the displays, that was it: she was done with the drugs. Her stance was firm.
"I don't think any kid at seven years old should be diagnosed with anything because you're just a kid," says Sydney.
"I think that she needed that to show my mom to say, 'Look it's proven, this is not right,'" says Jasmine.
After eight years trapped—a medicated emptiness—it was an emotional conclusion.
"I just embraced her," recalls Jasmine. "and I told her, 'This is your time. You are allowed to be free now. You are going to free your soul and you are going to come back into your body and you are going to be you and nothing is wrong with you.' Because no one was acknowledging what she was going through, other than probably me."
Sydney remains drug-free and she once again sings. And both sisters are outspoken CCHR advocates against psych drugging.
---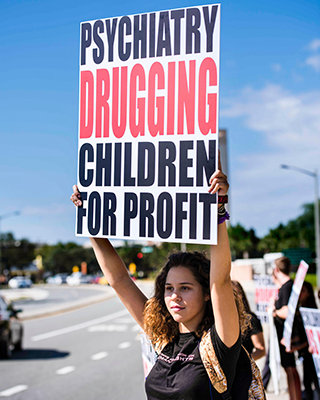 TAKING ACTION
Your Story Could Be Featured
Are you inspired by stories of psychiatry being brought under the law? Have you ever wondered if your own story could be told?
Citizens Commission on Human Rights is a global network of commissioners, lawyers, healthcare professionals, fraud investigators, child advocates, educators, mothers, fathers, sisters and brothers all tied together by a common purpose to restore human rights and dignity to the field of mental health. As you are reading this, you are already part of the team.
If you have documented, exposed, prosecuted, litigated or legislated against psychiatric abuses and would like to share your challenges and successes with others, we'd like to hear from you for the possibility of being featured in a future newsletter.
Contact us. We will interview you by phone or email as needed and then write your story.
We are waiting to hear from you!
---
DONATE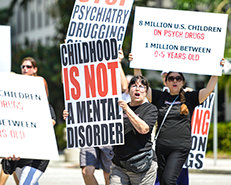 As a nonprofit mental health watchdog, CCHR relies on memberships and donations to carry out its mission to eradicate psychiatric violations of human rights and clean up the field of mental health. To become part of the world's largest movement for mental health change, join the group that has helped enact more than 180 laws protecting citizens from abusive psychiatric practices.