DIANE STEIN SHARES HER CCHR ACTIONS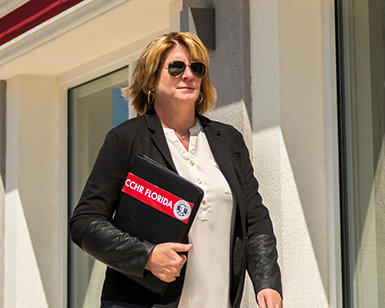 Diane Stein, President CCHR Florida, provides insight into what anyone can do as part of a CCHR chapter against abuse.
Diane Stein helped establish the CCHR Florida chapter in 2014, which has since filed over 6,900 complaints and has had 85 investigations launched by state agencies into criminal psychiatrists and their facilities. They have also gained release of 606 people held against their will in psych wards.
Why did you become a member of CCHR?
Because it is the only group that is taking on criminal psychiatry. I am a fighter and always have been. I was the kid on the school bus who would stand up to the bully. If you are a fighter at heart, the person who doesn't just want to put a band-aid on a problem, but wants to rip it out at the roots, then CCHR is perfect.
What does a person do as part of a CCHR chapter?
There are basic actions that CCHR chapters do to reform mental health such as finding abuse cases, filing complaints and legislative actions. If you are just starting your own activity, you can first locate an active chapter near you by contacting CCHR. They can guide you as you lay the foundation of your activity.
Everyone wants to produce immediate results. The way I made a difference right away was by first knowing and understanding the mental health law for my area and then identifying the biggest source of abuse. For me it was on children and involuntary psychiatric examination without parental knowledge. Once I pinpointed the problem I began educating families on the law, their rights and what they could do about the situation. That was the start and from there I worked to get the basic actions done. These are what one can do:
Find and document psychiatric abuse cases.
File complaints of this with police, medical or other professional licensing boards, etc.
Help abused persons or their families give media and documentary interviews, as well as speak at public events and visit legislators.
Document systemic abuses in psychiatric facilities and file complaints with the appropriate agencies.
Research the extent of psychiatry's influence and exchange this information with your nearby CCHR chapter and use it in local materials to raise awareness of psychiatric abuse and crime.
Monitor and prevent psychiatric-inspired legislation.
Monitor and support laws to protect human rights and bring psychiatry to account for harmful practices.
"If you are a fighter at heart, the person who doesn't just want to put a band-aid on a problem, but wants to rip it out at the roots, then CCHR is perfect."
Inform and educate the public by distributing CCHR documentaries and materials through multiple channels—handing them out, events, social media, press releases, etc.
Use the Psychiatry: An Industry of Death DVD (or traveling exhibit when it visits your area) to find and document psychiatric abuse cases and educate community leaders, legislators and policy makers.
Work with parents, teachers and other educators to bring about expulsion of harmful psychiatric/psychological programs and actions in schools, colleges and universities.
Have people sign the Psychiatric Living Will to protect them from forced psychiatric intervention and treatment. Go to cchrint.org/psychiatric-living-will for a copy.
What are you most proud of from your work?
From a young age I wanted to inspire and give courage to others to fight for their rights. This is what I am most proud of. As a group working together for the same goal, we will make permanent change.
---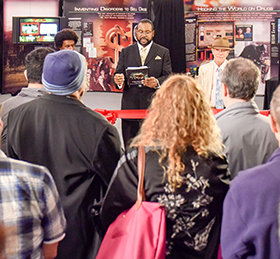 END PSYCHIATRIC ABUSE
As a nonprofit mental health watchdog, CCHR relies on memberships and donations to carry out its mission to eradicate psychiatric violations of human rights and clean up the field of mental health. To become part of the world's largest movement for mental health change, join the group that has helped enact more than 180 laws protecting citizens from abusive psychiatric practices.