Psychiatry: An Industry of Death Museum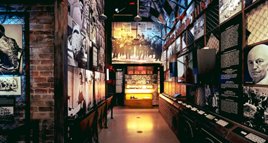 Located within CCHR's international headquarters in Hollywood, California, this state-of-the-art museum documents how psychiatry is an industry driven by profit, its pretended help often resulting in death.
Thousands of lawmakers, doctors, human rights advocates, healthcare professionals and students, as well as private citizens have toured the museum and are using the information to take action in their own sphere and thereby force psychiatry to account for its crimes and abuses.
This entirely self-guided tour includes documentaries, artifacts and displays of psychiatry's most harmful treatment devices. It is the definitive resource on historical and contemporary psychiatric theories and practices.
The museum is free to the public and is open 7 days a week.
Address:
Citizens Commission on Human Rights
6616 Sunset Blvd
Los Angeles, California 90028
Hours of operation:
10:00 a.m. to 9:00 p.m. Monday – Friday
10:00 a.m. to 6:00 p.m. Saturday
1:00 p.m. to 6:00 p.m. Sunday
Bring your friends, family and anyone else who deserves to know the truth. Groups are welcome.
To book tours, please call the Museum Manager at 1-800-869-2247.