A LOOK AT FIVE DECADES OF WINS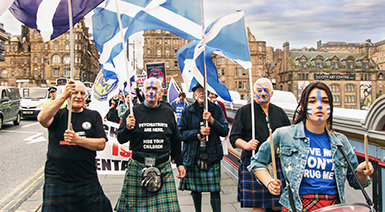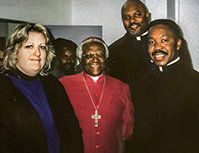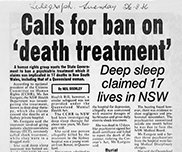 To provide a sense of the work CCHR does, we look at some of CCHR's many accomplishments in its first 50 years.
After its founding in 1969, CCHR's first abuse case was Hungarian refugee Victor Gyory who was involuntarily detained in Haverford State Hospital in Pennsylvania after psychiatrists diagnosed his "babbling in tongues" as "schizophrenia." He was drugged and electroshocked against his will. CCHR filed a writ of habeas corpus, Dr. Szasz testified that Gyory's "babbling" was his speaking Hungarian and CCHR secured Gyory's release from the hospital.
In 1970s' apartheid South Africa, CCHR exposed psychiatrists incarcerating 10,000 blacks, using them as slave labor while electroshocking them without anesthetic. CCHR reported them to the World Health Organization, which investigated the camps and issued a report in 1983 stating that "in no other medical field … is the contempt of the person cultivated by racism, more precisely portrayed than in psychiatry."
After the fall of apartheid, CCHR obtained a national inquiry into psychiatric racism and presented testimony to South Africa's Truth and Reconciliation Commission with a history of mental health studies that had helped entrench and perpetuate apartheid and psychiatry's role in apartheid abuse.
For a decade, CCHR investigated and exposed Deep Sleep Treatment (DST) at Chelmsford Private Psychiatric Hospital in Sydney, Australia. Patients were rendered unconscious with drugs and electroshocked daily—48 died. The result was a ban on the procedure and criminal prosecution for psychiatrists who use DST.
After CCHR exposed inhumane conditions in Italian asylums, 97 were shut down and the patients rescued.
In 1991, CCHR helped get FDA hearings on antidepressants and their involvement in suicidal and homicidal reactions in users. The FDA issued a stringent black box warning that these drugs can cause suicidal thoughts and actions in those 24 years of age and younger.
In 2004, CCHR was among those that obtained a US Prohibition of Child Medication Safety law that banned schools from forcing schoolchildren to take prescription psychotropic drugs as a requisite for their schooling.
In Germany, CCHR investigated and exposed the role of psychiatrists in euthanasia and the Holocaust. In 2010, Dr. Frank Schneider, President of the German Association for Psychiatry, Psychotherapy and Psychosomatics, wrote an apology and confessed that German psychiatrists "lied to and deceived patients in their care and their families. They forced them to be sterilized, arranged their deaths and even performed killings themselves. They also murdered and mentally disabled children in more than 30 psychiatric and pediatric hospitals."
"In no other medical field … is the contempt of the person cultivated by racism, more precisely portrayed than in psychiatry."
In 2018, after CCHR had worked for years with the United Nations in an effort to ban the use of coercion in psychiatry the UN Human Rights Council issued a resolution which included that "policies permitting the use of coercion and forced interventions … are repealed" and that "states should reframe and recognize these practices are constituting torture."
For the last 30 years, CCHR has investigated psychiatric fraud such as billing for their sexual abuse of patients as "therapy." CCHR helped secure 28 laws that make mental health practitioner sexual abuse of patients a criminal offense punishable by imprisonment.
Nearly 200 laws and countless regulations protecting human rights in the field of mental health stand in testament to the passion and perseverance of the members, partners and supporters of CCHR.
---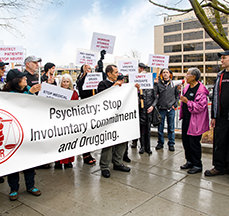 PUT AN END TO THE ABUSE
As a nonprofit mental health watchdog, CCHR relies on memberships and donations to carry out its mission to eradicate psychiatric violations of human rights and clean up the field of mental health. To become part of the world's largest movement for mental health change, join the group that has helped enact more than 180 laws protecting citizens from abusive psychiatric practices.