DEMANDING PSYCHIATRY TAKE ACTION TO END RACIST AND UNSCIENTIFIC TREATMENTS IN THE FIELD OF MENTAL HEALTH
CCHR condemned psychiatry's racist practices and the chemical imbalance theory during the American Psychiatric Association's Mental Health Services Conference in Washington, DC.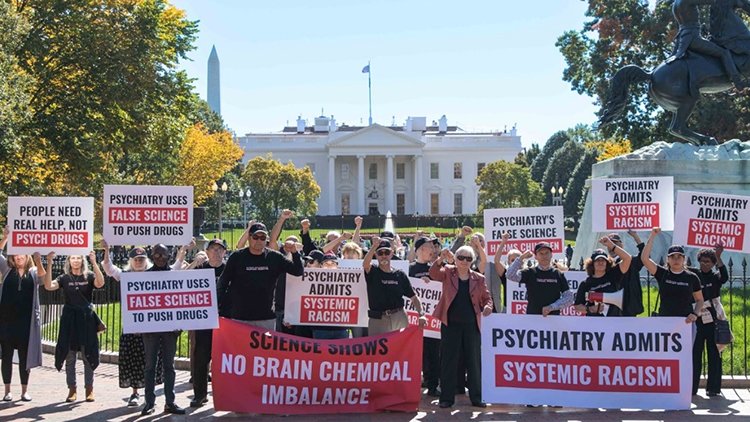 CCHR volunteers marched in downtown Washington, DC, during the American Psychiatric Association's (APA) Mental Health Services Conference to protest psychiatry's systemic racism and the "chemical imbalance" theory.
Over the past two years, the APA and professors in the field of psychiatry revealed shocking facts in the field of mental health.
In a January 2021 article, the APA admitted it enabled "discriminatory and prejudicial actions within the APA and racist practices in psychiatric treatment for Black, Indigenous and People of Color," and that, "Since the APA's inception, practitioners have at times subjected persons of African descent and Indigenous people who suffered from mental illness to abusive treatment, experimentation, victimization in the name of 'scientific evidence,' along with racialized theories that attempted to confirm their deficit status." The article further notes that, "These appalling past actions, as well as their harmful effects, are ingrained in the structure of psychiatric practice and continue to harm [Black, Indigenous, People of Color] (BIPOC) psychological well-being even today."
A second revelation in July 2022 debunks the long-standing theory that depression is caused by a chemical imbalance in the brain. British researchers Joanna Moncrieff and Mark Horowitz along with several peers performed an umbrella review of the research associated with the chemical imbalance theory to determine whether or not there was any proof that supported it. Moncreiff and Horowitz are professors and researchers at University College London (UCL), the top-ranked university in the UK for research in psychology, psychiatry and neuroscience. They found there is no such evidence:
"For three decades, people have been deluged with information suggesting that depression is caused by a 'chemical imbalance' in the brain—namely, an imbalance of a brain chemical called serotonin. However, our latest research review shows that the evidence does not support it."
The study further stated that the widely promoted chemical imbalance theory has "been influential for decades and provides an important justification for the use of antidepressants."
Regarding Selective Serotonin Reuptake Inhibitor (SSRI) antidepressant drugs, the study concludes, "That it is impossible to say that taking SSRI antidepressants is worthwhile, or even completely safe."
CCHR demands that the APA publicly condemn these dangerous practices.
Protestors from DC, Virginia, Maryland, Florida, Massachusetts, New York, New Jersey and Tennessee marched from the convention to the White House, where they demanded immediate action and accountability.
If you have experienced discriminatory treatments or other abuses and want to take action, CCHR can help. Report it to cchr.org/take-action/get-involved.html.