PROTECTING THE RIGHTS OF MENTAL HEALTH PATIENTS
CCHR Japan Takes On Psychiatric Brutality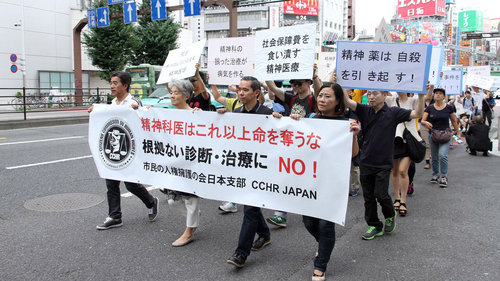 Japan, the Land of the Rising Sun, is a nation of ancient tradition, spirituality and beauty. But threatening this culture is a psychiatric system that has run unchecked for years. It now has the dubious honor of claiming the world's highest count of psych beds per capita, with more than 300,000 patients in psych hospitals. Almost half of these were involuntarily committed, and some 2,100 of them die every month.
A "Mental Health Designated Psychiatrist" license is required to commit patients without their informed consent, use restraints and place them into isolation. Yet no system of checks and balances exists, leaving psychiatrists unrestrained to commit, drug, seclude and restrain patients, while charging extra fees for "professional" services.
CCHR Japan said, "No more" and took effective action. They petitioned the Ministry of Health, which issues the "Designated Psychiatrist" licenses. They demanded inspections of all psychiatric treatment, particularly in psych hospitals. CCHR Japan then met directly with officials of the Health Ministry and received a commitment to reinforce the inspection for psychiatric hospitals and stem the tide of abuse.
To ensure that the Ministry of Health understood the importance of the situation, CCHR Japan worked with concerned citizens who sent more than 10,000 letters protesting the treatment of psychiatric patients and the free rein of psychiatrists.
And the group didn't stop there. It held workshops in the Parliament building for government officials and nongovernmental organizations, laying out the grim facts of psychiatric brutality.
Then CCHR Japan demonstrated during the annual congress of the Japanese Society of Neurology and Psychiatry, demanding that the society provide scientific evidence behind its claim of the safety and effectiveness of psychotropic drugs. No reply and no documentation was forthcoming, conveniently ignoring that in the six months prior to the meeting, 32 patients died after taking a new antipsychotic drug.
A media barrage followed. The major weekly magazine Woman Seven exposed the financial ties between the ruling political party and the Japanese Association of Psychiatric Hospitals, at the same time laying out the appalling statistics on restraints, isolation and deaths in psych hospitals.
With incontrovertible evidence on the table, the Ministry of Health could no longer ignore it and proceeded to conduct its own investigation, starting with Santa Marianna University. It uncovered proof of psychiatrists falsifying applications to obtain their licenses, even forging documentation about patients they never saw. A Medical Ethics Council established by the Ministry revoked the licenses of 20 psychiatrists at the university, on the grounds of fraud and falsification of documents.
With this Pandora's Box opened, evidence of similar fraud and false licenses by psychiatrists in other universities and hospitals began to flood in through whistleblowers, resulting in more licenses revoked. The Ministry of Health then launched a review of the process of issuing the licenses and monitoring psychiatrists' actions. The goal is to enforce a more stringent standard of regulation and halt psychiatric fraud in Japan.
---
REPORT PSYCHIATRIC ABUSE
Psychiatric Diagnosis Abuse Report Form: This report form is available at CCHR.org. If you or someone you know is a victim of psychiatric abuse, fill out the form. Go to www.cchr.org/reportabuse
Prosecute Crimes: In your dealings with the psychiatric industry, you have undoubtedly witnessed abuses of individuals, including overdrugging, sexual assault, gross negligence, deaths and Medicare and Medicaid fraudulent billings.
The CCHR hotline provides a strictly confidential means to report psychiatric abuse and crimes and assist victims and whistleblowers in filing complaints to the proper police and licensing authorities. You can report evidence to CCHR of any patient who has been killed, sexually abused or damaged by a mental health practitioner. Your name and any identifying information will be held in the strictest confidence.
If you know of any crime committed by a psychiatrist or mental health practitioner, file a report by using the form at www.cchr.org/reportabuse or write to or call:
ABUSE CASE IN-CHARGE CCHR INTERNATIONAL
6616 W. Sunset Blvd.
Los Angeles, CA 90028 USA
(323) 467-4242
(800) 869-2247 US Only

---
RESTORE HUMAN RIGHTS TO MENTAL HEALTH
As a nonprofit mental health watchdog, CCHR relies on memberships and donations to carry out its mission to eradicate psychiatric violations of human rights and clean up the field of mental health. To become part of the world's largest movement for mental health reform, join the group that has helped enact more than 170 laws protecting citizens from abusive mental health practices.