THE HIDDEN AGENTS BEHIND THE HOLOCAUST EXPOSED
To protect future generations from falling into the same trap, CCHR chapters held events on International Holocaust Remembrance Day to expose the true source of many Holocaust atrocities.
Every year, on International Holocaust Remembrance Day, we pay tribute to the memory of Holocaust victims. In 17 nations CCHR chapters held events that brought to light a key, though little publicized, hidden influence behind the Holocaust. The missing link: German psychiatrists.
As early as 1920, psychiatrists proposed the killing of patients. Once Adolf Hitler was in power, the floodgates opened for involuntary eugenical sterilization and euthanasia programs. Six psychiatric centers used medical professionals, gas chambers disguised as showers and mass burning of corpses. More than 60 years after the Nuremberg Trials, Dr. Frank Schneider, President, German Society of Psychiatrists, issued a public apology for psychiatry's creation of the ideology that became Nazi euthanasia, and their role in the selection of those to be murdered and murdering others themselves.
The Church of Scientology, co-founder of CCHR, held screenings of The Age of Fear: Psychiatry's Reign of Terror, a documentary which lays bare psychiatry's history from Nazi Germany to modern day. In Brussels, Belgium, Przemyslaw Jurkiewicz, curator of the Nazi camp Fort VII Museum in Poland, spoke of the existence of gas chambers prior to World War II and their testing in Polish psychiatric hospitals, killing hundreds.
Many of the Israeli psychiatrists of today are the great-grandchildren of Nazi eugenicists and use the same techniques as they did years ago.
In Tel Aviv, attorney Raz Misgav spoke. He defends children trapped in the social services system, often leading to their placement in psychiatric facilities. He detailed how many of the the Israeli psychiatrists of today are the great-grandchildren of Nazi eugenicists and use the same techniques as they did years ago.
In Germany, CCHR chapters held events in Berlin, Frankfurt, Hamburg, Stuttgart and Munich, with vigils for Holocaust victims and displays entitled "The Men Behind Hitler" and "Eugenics and the Holocaust" placed on a busy street. All events exposed the true source of deadly policies and actions behind the Holocaust, so that such crimes will never happen again.
---
FACTS
PSYCHOTROPIC "SIDE EFFECTS"
Some psychotropic drugs have "side effects" that include suicide and homicide.
117%
INCREASE
in psychiatric drug prescriptions in the U.S. between 1999 and 2013
24%
INCREASE
in the suicide rate in the U.S. from 1999 to 2014—coincidence?
41
MILLION AMERICANS
are on antidepressant drugs
65
ACTS OF VIOLENCE
that killed or injured 693 people over 3 decades were by individuals on or withdrawing from psychotropics
409
DRUG WARNINGS
on psychiatric drugs include the risks of self-harm, suicide, violence, aggression and homicidal ideation
---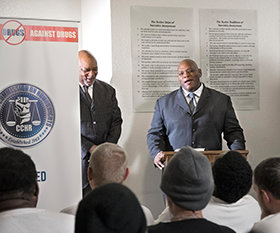 END PSYCHIATRIC ABUSE
As a nonprofit mental health watchdog, CCHR relies on memberships and donations to carry out its mission to eradicate psychiatric violations of human rights and clean up the field of mental health. To become part of the world's largest movement for mental health change, join the group that has helped enact more than 180 laws protecting citizens from abusive psychiatric practices.