A NOT-SO-PEACEFUL CONVENTION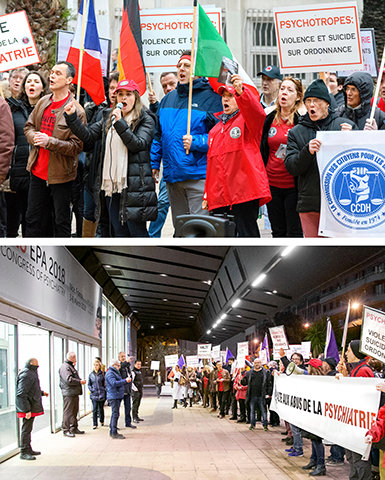 CCHR France gave a European Psychiatric Association Convention a warm welcome.
Nice might be a scenic beachside city on the French Riviera, but when the European Psychiatric Association (EPA) decided to hold their annual shindig there and CCHR France decided to have something to say about it, things were anything but peaceful.
To make the attending psychiatrists feel welcome, CCHR France held a protest rally at the front door of the Nice Acropolis Convention Center with signs proclaiming "Stop Psychiatric Abuse" and "Psychiatry: Barbarity, Electric Shocks, That's Enough."
They then opened the Psychiatry: An Industry of Death traveling exhibit. Over the ensuing days, exhibit visitors included EPA psychiatrists, educators, nurses, journalists, psychologists, medical doctors, parents and students.
A lawyer, after touring the exhibit, shared his observations that most patients are not properly defended in court and become illegally committed. A young Dutch psychiatrist stated that she had no intention of working in a psychiatric institution due to abuses. She wants to help her patients, not drug them.
But the EPA said it best when, during their own congress, they quoted an article from The Lancet: "Common perceptions within the medical profession include the view that psychiatry is just not scientific enough, is too remote from the rest of medicine, is often viewed negatively by other medical professions."
We couldn't agree more.
---
WE REALLY WANT TO

HEAR

FROM YOU
Here is what some of those touring our Psychiatry: An Industry of Death traveling exhibit said:
PSYCHIATRIC NURSE, USA
I find this exhibit so enlightening. I wonder why I wasn't taught some of this when I went to school. It would have changed my mind about the profession I was choosing.
STUDENT, USA
I'm happy to see this exhibit exists. My parents put me on ADD medication when I was young, and I felt really betrayed, but never said anything. This makes me feel better about what I knew was wrong at the time.
TEACHER, ISRAEL
I thought psychiatry was pure work. Now I see that it is cruelty.
ASSEMBLY MEMBER, JAPAN
I am very impressed by the work of CCHR. I now understand how parents and children are suffering because of the labeling of "developmental disorders." Medicating children is not the answer.
WOMAN WHOSE HUSBAND COMMITTED SUICIDE IN PSYCHIATRIC CARE, JAPAN
Now I can understand the reason why my husband died. Before he died, I believed that psychiatrists could help my husband. It was totally an illusion. This exhibit shows the answer to my questions about psychiatry.
MOTHER, NEW ZEALAND
This exhibit is brilliant. I was in the psych system and what I experienced was abusive treatment. I was incarcerated in a hospital and a nurse would push tablets down my throat with her fingers. One nurse advised me that the only way for me to get out was to play the game, say I was feeling better and had new insights into my mental condition. I want to help CCHR.
---
FACTS
THE PSYCHOTROPIC DRUG PROBLEM
If you go to see a psychiatrist, chances are you will leave with a prescription.
Here are the stats:
1 in 4
AMERICANS
are reported to be taking psychotropics, with antidepressants being the most common of the drugs
80,223,280
ON PSYCHOTROPICS
in the US in 2017, with 3.2 million of them being under the age of 12 years
50%
MORE DIED
from psychiatric drug overdoses in the US than from heroin overdose
57
MILLION
prescriptions were filled in 2014 in the UK, enough for every man, woman and child
$88
BILLION
is spent internationally on psychiatric drugs in one year
---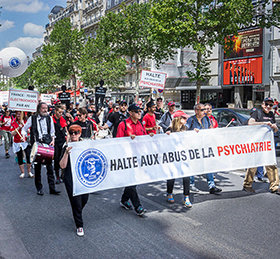 STOP PSYCHIATRIC ABUSE
As a nonprofit mental health watchdog, CCHR relies on memberships and donations to carry out its mission to eradicate psychiatric violations of human rights and clean up the field of mental health. To become part of the world's largest movement for mental health change, join the group that has helped enact more than 180 laws protecting citizens from abusive psychiatric practices.