CCHR DEMANDS DRASTIC CHANGE FROM BRITISH PSYCHIATRISTS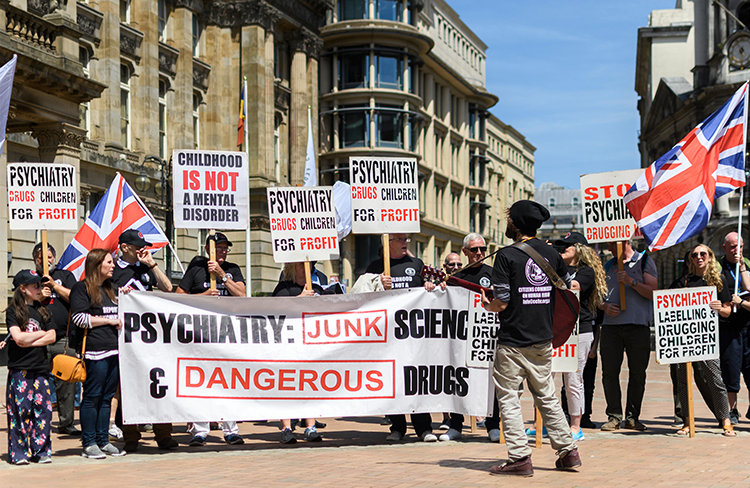 CCHR UK claims Royal College of Psychiatrists International Congress is foisting off junk science on the general public, putting UK children at grave risk.
The Citizens Commission on Human Rights (CCHR) was on hand at the opening of this year's Royal College of Psychiatrists International Congress. They came to challenge psychiatrists on their ethics, namely, prescribing dangerous psychotropic drugs to British schoolchildren, when a leading neuroscientist admits there is no science to show that so-called attention deficit hyperactivity disorder (ADHD) even exists.
Some psychiatrists at the convention confided that they agreed. On the provision he would not be quoted, one admitted that profit is psychiatry's main motivation for this destructive practice. Another confided he knows that ADHD is not a real disease. A teacher who worked with special needs children for many years said the conditions and handling of the children with "learning disorders" is dreadful, and the system is corrupt.
According to The Guardian, "Nearly a million prescriptions for Ritalin and related drugs for ADHD were dispensed [in England]—more than double the number of a decade ago."
"Psychiatrists have come to realize that after decades of drugging their patients with no resultant cure, these drugs don't work."
To provide the true history of child drugging and many other destructive practices, such as recent attempts to repopularize electroshock, CCHR opened the Psychiatry: An Industry of Death exhibit to educate those visiting the congress and local residents. Mr. Awil Hussein, Order of the British Empire and former Crown Prosecution staff, dedicated the exhibit, stating, "There are over 20 million children worldwide on psychiatric drugs. Psychiatrists have come to realize that after decades of drugging their patients with no resultant cure, these drugs don't work. They are now pushing other barbaric 'treatments' such as electroshock."
The exhibit educates and informs but also offers practical guidance to lawmakers, doctors, human rights advocates and private citizens to take action in their spheres to force psychiatry to account for its crimes and abuses.
---
FACTS
THE PSYCHOTROPIC DRUG PROBLEM
If you go to see a psychiatrist, chances are you will leave with a prescription.
Here are the stats:
1 in 4
AMERICANS
are reported to be taking psychotropics, with antidepressants being the most common of the drugs
80,223,280
ON PSYCHOTROPICS
in the US in 2017, with 3.2 million of them being under the age of 12 years
50%
MORE DIED
from psychiatric drug overdoses in the US than from heroin overdose
57
MILLION
prescriptions were filled in 2014 in the UK, enough for every man, woman and child
$88
BILLION
is spent internationally on psychiatric drugs in one year
---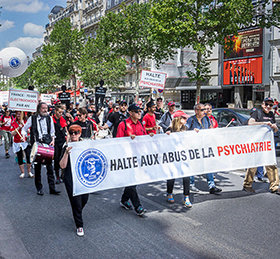 STOP PSYCHIATRIC ABUSE
As a nonprofit mental health watchdog, CCHR relies on memberships and donations to carry out its mission to eradicate psychiatric violations of human rights and clean up the field of mental health. To become part of the world's largest movement for mental health change, join the group that has helped enact more than 180 laws protecting citizens from abusive psychiatric practices.