WARNING MEXICO STATE OF PSYCHIATRIC ABUSE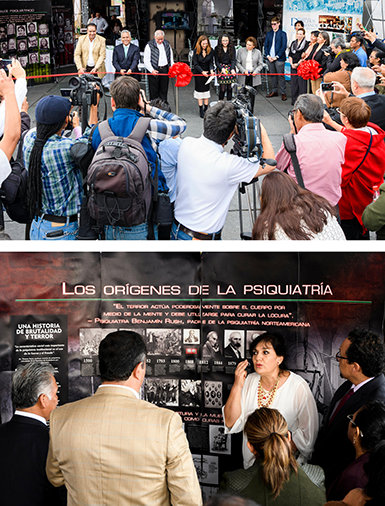 CCHR brings Psychiatry: An Industry of Death exhibit to educate Mexican citizens.
Citizens Commission on Human Rights brought their hard-hitting Psychiatry: An Industry of Death exhibit to Toluca, the capital of the State of Mexico, alerting the community to experimental psychiatric treatments and the damage they cause. These treatments include the practice of labeling normal behavior as "disorders" and administering psychiatric drugs to children and teens despite many of these drugs having "black box" warnings including suicide and death.
The exhibit was opened by the mayor of Toluca, who encouraged his constituents to find out more about these and other abusive psychiatric practices to protect themselves and their families. Also attending were the city's bishop and the state's human rights commissioner.
Subsequently toured by more than 3,600 Toluca residents, the exhibit educates, informs and provides guidance to lawmakers, members of the medical profession, human rights advocates and the general public. The exhibit's purpose is to encourage people to take action to report and prosecute psychiatric fraud and crime and bring about needed reform.
Rare photos, documentary films and the multimedia exhibit provide a vivid overview of the history and current state of psychiatry. This includes graphic displays of psychosurgery, forced restraints and sadistic psychiatric treatments such as high-voltage electroshock and prefrontal lobotomy.
---
WE REALLY

want to hear

FROM YOU
CCHR.org provides resources for those who want to fight psychiatric abuse. Here is what some of them have to say.
OREGON, USA
"I saw this documentary [The Hidden Enemy] air on the Scientology Network and found it eye-opening. I have a 32-year-old friend who was in the air force and then put on a bunch of psychiatric drugs and even institutionalized. She is now out of that facility and weaning off the drugs. I would love to watch it with her and give her the DVD to share with her vet friends."
PUERTO RICO
"I have made good use of the materials sent to me. I have been giving material to local authorities related to mental health, police and the court of San Juan. I have been really proactive in giving information about The Marketing of Madness."
MEXICO
"I am very grateful and excited for this incredible project. I received The Marketing of Madness Education Package. I am sure this project will succeed because it will help people to understand that mental health is not a game."
BRAZIL
"I would like to info you that I have received the materials as previewed: a DVD, a manual for teachers and pamphlets. I made another presentation [of this information] to about 20 teachers of a public school. Thank you."
MEXICO
"I am interested in getting the kit. I want to know more about mental health problems. I would like to know how to help people with these situations. In my case, I am motivated due to having relatives with these problems."
LOUISIANA, USA
"I did receive the kit. Thank you. I have shared it. Individual reactions have varied from shock to 'I knew what they were doing wasn't right, but I just couldn't put my finger on it.' All who have seen the video have come away with a better understanding of what's going on."
---
FACTS
AGAINST THEIR WILL
People around the world are receiving harmful psychiatric treatment against their will.
1 in 3
ECT VICTIMS
of the estimated 1 million who receive it annually worldwide, did so without their consent
70
PERCENT
increase in involuntary commitment in Germany over an eight-year period
10,000+
PEOPLE
in Australia per year are subject to compulsory psychiatric treatment in their own home
1,800
COMMIT SUICIDE
while hospitalized in the United States each year
195,000
BAKER ACTED
(involuntarily committed) in Florida, USA, in a single year
---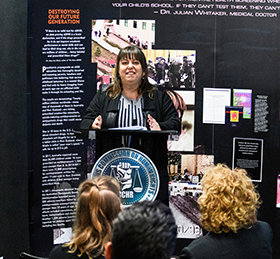 PUT AN END TO THE ABUSE
As a nonprofit mental health watchdog, CCHR relies on memberships and donations to carry out its mission to eradicate psychiatric violations of human rights and clean up the field of mental health. To become part of the world's largest movement for mental health change, join the group that has helped enact more than 180 laws protecting citizens from abusive psychiatric practices.